Online Store Success
An eight-week, step by step guide to building and scaling your online fashion or lifestyle store - minus the overwhelm
Watch Promo
Enroll in Course
What others have about the Online Store Success Program
⭐⭐⭐⭐⭐

Kate from Jimmy HalfPenny
"Jodie's business advice, strategies and Facebook tutorials have been absolute gold. She has helped me simplify my pricing system and operatons, gain more traffic and sales through Facebook ad sand even come up with new products to add to my site! I'm so glad made the investment to join the course. My investment has repaid itself tenfold already!"
Egidia doubled her sales and increased her conversion rate by 227%
⭐⭐⭐⭐⭐
"Since taking the Online Store Success program, I've doubled my sales, increased my traffic by 100% and improved my conversion rate by 227%. I was at a point where I was wondering if I'd ever be able to make my business dream a reality, and I can happily say now, that I'm well on my way!"
EGIDIA, AWARDS FASHION
⭐⭐⭐⭐⭐
"The course was fabulous! Being able to access Jodie's knowledge and learnings via her own experiences, is so helpful for all of us just starting out on our own business journey's. That kind of information really is invaluable when you are just starting out, so I'm grateful to have had the opportunity to connect with Jodie and the other people in the course."
MEL, LOVE MY CLUTCH
⭐⭐⭐⭐⭐
"This program was amazing. It laid the groundwork for setting up your business right. I was a year into having launched a business with minimal planning and guidance, this course took me through step by step in breaking down each element and putting in place a strong base to build upon. It upskills as well as allowing critical reflection to make changes. Jodie is amazing. She is full of so much passion to grow your business and support to get you there."
JEN, FERN & THE WOLF
⭐⭐⭐⭐⭐
"I signed up for Jodie's Online Success Store course after having already started my own online business, but really needed help and insights into how to get it moving. It is kinda like you sign up to get someone who has a successful online business's secrets on what works well, what doesn't, what software is worthwhile investing in, what you should aim to be doing and what you might want to outsource etc. Not to say that I follow Jodie's exact path because my business is different but I picked up SO many great tips to put into practice asap – which is the key, you need to work out what will work for you. Such a timesaver as she has tried and tested so much so this alone saves hours of research and your own trial and error.
I am now working through putting many new things into place in my business, allowing time for this to happen and I have a much better plan in place to get my business running more effectively. I feel more confident in making it work! Jodie is so lovely, friendly and open and I am thankful for her wanting to share her knowledge. Very valuable!
ANDREA IVES – GREENDOOR
What we will cover
Module 1: Source & Showcase the Perfect Products
Manufacturing
Collection Planning
Wholesaling
Pricing
Product Photography
Module 2: Nail your Tribe
Ideal customer profiling
Branding alignment
Marketing
Copy
Module 3: E-Commerce Success Tools
Plan and Launch your website
Select the right platform
Payment capture, plug-ins and apps
Effective website structure
Module 4: Social Media Success Strategies
Build your audience with Social Media
Facebook business pages
Instagram success strategies
Pinterest marketing strategies
Module 5: List Building & Email Marketing
Build your list
an email marketing campaign
a nurture sequence
newsletter campaigns
calls to action
Module 6: Facebook & Instagram advertising
Facebook Pixel
Facebook and Instagram Ads
Custom audiences and use targeting
Retargeting Ads
Ad campaigns and sales funnels
Module 7: Website Optimazation & Conversions
Website optimisation for conversion
Google analytics
Measuring your traffic
SEO strategies
Abandoned cart sequence
*Plus his enrolment in this course gives you 365 DAYS ACCESS to the comprehensive online modules, including any future updates
About Jodie Minto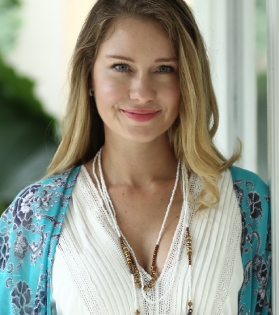 Hi there! My name is Jodie and I'm the Designer and Founder of Fashion Label, iland co.
I founded iland co. when I was living in Dubai as an expat, working full time and with 2 young children. My driving motivation to start my own business was the lack of joy I got from corporate job and the fact I was missing so much of my children's lives.
I craved the freedom, flexibility and creativity your own business can provide. I begun experimenting and testing my local market with products and concepts until iland co. was born.
iland co. allowed me to eventually quit my full time job and live the life I dreamed of and now I want to help other women do the same.
iland co. has gone from strenght to strength with consistent six figures sales each year and alsmost 40K instagram followers and stockists accross the globe.
I love what I do, and I want other women to enjoy the same success and flexibility in their own lives.
Join me on this journey of entrepreneuial success and freedom. I can't wait to help you ahieve the success that I have through my online store.
Jodie
XOX
Meet Belle & Suzi...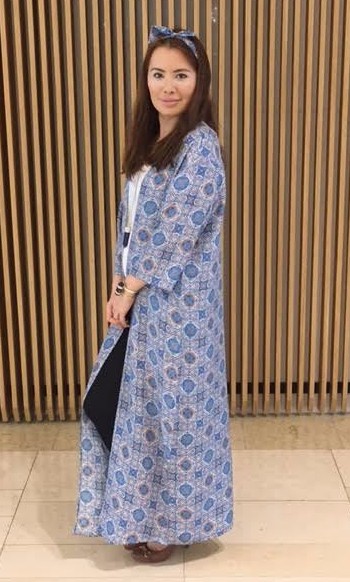 I have been madly in love with Jodie's brand of kimonos and dresses. When I eventually got to know Jodie over the social media, I just felt this woman is so supportive and so open, that I started asking questions about creating my own brand making abayas, kimonos etc.
I feel so privileged to have been coached and mentored by Jodie on this challenging and exciting journey of mine. I couldn't have been happier for having Jodie as my guide and biggest supporter.
I have gained a thorough understanding on the production side of the business within a short period of time, avoiding making costly mistakes and relevant tips for sales side of it. Jodie has provided me with tried and tested contacts for tailors, web design, supplier of fabrics, brand developers etc This has saved me heaps of money and time. Jodie's style of coaching is very personable and flexible and she is quick to respond to whatsapp and emails.
I have had great experience working on creating my brand from zero and looking forward to taking my business onto the next level with Jodie's support and business knowledge. Bella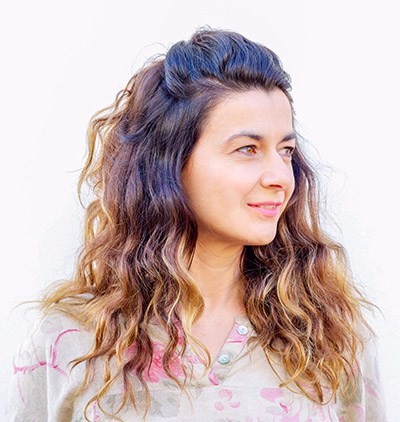 I needed help taking my business to the next level and I didn't know where to start. I had been struggling in the deep end for a while.
As a creative my weakness was not knowing how to create business structures and priorities but I knew that I needed to if I wanted to get out of my maze.
I was finally ready to admit that I needed guidance and that was when I fell upon Jodie in a business group. Working with Jodie has been the best decision I've made for my business.
She became my rock and my centre of accountability. I found her easy to relate to, she listens to where your business is at and helps you structure a plan and priorities to move your business forward.
We had fortnightly calls and would touch base in between with whatever needs may arise.
After working with Jodie for 3 months I feel like I have progressed within my business in leaps and bounds and have developed a whole new side to my brain that I never believed I had.
I am now able to see where I'm at in my business, what I need to keep moving forward and create the pathways and structures to make that happen.
What Jodie has taught me has been invaluable and I look forward to working with her again in the future when my business is needing its next boost. Suzi
Frequently asked questions:
When does the program start?
As soon as you enrol you gain access to the course and will be invited to that weeks call!
Does the program include live coaching calls?
Yes, the Online Store Success Program includes Monthly Group Q & Calls that are held live inside our dedicated Facebook group. You will have access to any calls that are scheduled within your 8 weeks in the group.
How do I join the call and what if I can't make it?
Our Monthly Q & A calls happen as Facebook lives inside our dedicated and supportive group. All calls are recorded and posted in the Facebook group for you to watch whenever you like.
Is there an agenda for the Q & A calls? What if I don't have anything to contribute?
The monthly Q & A calls are exactly that. A chance for you to ask me any specific questions relating to the modules, the tasks or about any particular business challenge you might have.

What format are the modules delivered in?
High quality videos with audio that you can login and access anytime from your computer or via the Teachable App on your smartphone.
How long does the program run?
8 weeks! That means you will have access to live support for 8-weeks inside our private and supportive Facebook group. There are options to extend your time in the group beyond your first 8 weeks and these will be shared with you via email at the end of your 7th week. However you will have access to the online modules for 1 year!
How do join the Facebook group and how long do I have access for?
As soon as you have enrolled we will send you a link to join the group. You will have access to the group for the 8 weeks from your enrolment date. There are upgrade options available should you wish to stay in the group after 8 weeks for additional support and access to me.
How many modules are there in the course?
7 modules + special bonuses. You will get full access to the course upon enrolment so you can study at a time that suits you.
Do you offer a payment plan?
Yes! We offer a payment plan. Please check the sales page for our latest payment plan options. First payment is collected when you complete your enrolment. Please note, if you fall behind on your payments, your course access will be frozen until you become up to date. Any lost weeks are not added back to your live support program.
Do you offer refunds?
We 100% stand by the quality of our program. See our refund policy for full information. https://jodieminto.com/refund-policy
If you have purchased the program by accident and haven't yet logged in, please contact us immediately at [email protected] .
What payment methods do you accept?

We accept Paypal which supports all major payment methods including credit card and EFT.
What if I want to stay in the group and continue with the coaching calls after the 8 weeks?
After the completion of the 8 week program, selected students will be invited to join a 12 month Mastermind Program which includes more advanced coaching and strategies as well as face to face events and training.
Can I ask you a question not covered? Yes! Of course. Email me at [email protected]
How many modules are there in the
course?
7 modules + special bonus videos and resources
IMPORTANT - Buy purchasing this program, you are agreeing to the terms and conditions which can be found here: